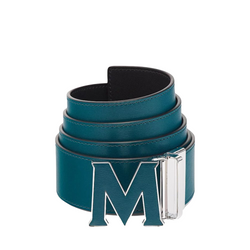 MCM CLAUS LEATHER INLAY M REVERSIBLE BELT 1.75" IN EMBOSSED LEATHER DEEP TEAL-BLACK
An artisan take on the classic wardrobe staple, embellished with a leather-inlaid "M" buckle.
Merging minimalism and textured refinement, the Claus reversible belt is fashioned in embossed leather on one side and black nappa leather on the other. Elevated craftsmanship is employed to create the cobalt metal "M" buckle inlaid with grained leather. As per tradition, the buckle is detachable — allowing the belt to be cut to a customized fit.
 Approximately 1.8 x 51.2 x 0.0 inches
 Reversible design
 Customizable length (Cut to size)
 Main side: Embossed leather
 Reverse side: Black nappa leather
 Cobalt metal "M" buckle with leather inlay
 Made in South Korea
Style # MXBCSVI05JY001