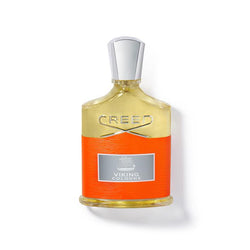 Creed Viking Cologne 50ML
Viking Cologne is a free-spirited continuation of the dynamic Viking saga; a bracing contemporary take on an aromatic fougère that evokes the arctic sun glittering off azure fjords. 
A juxtaposition to its precursor, the fiery Viking, this cooler counterpart echoes the spirit of the original but is a triumphant perfume in its own right - a thrilling adventure of light, landscape, and imagination. For the modern explorer, Viking Cologne bottles the pull to natural landscapes and terrains yet to be explored. Its valiant wearer is prepared to awaken adventures with undeniable perseverance. A universal fragrance of boundless exploration.